The Pokemon character, Rayquaza, is a large and green serpentine animal. It has rudder-like wings on its shoulder that goes down its body and whose tips are red in color. There are patterned fins on the tip of the Rayquaza's tail. There are yellow ring-like symbols that run across the lengths of the body of Rayquaza. Moreover, it has an additional yellow ring on the top of its head. These animals have two limbs with three-clawed hands. They also have two long and flat horn-like structures on its head. They have small and yellow eyes, having black pupils with prominent pink gums and two fangs that are visible on its upper jaw.
Amazing Rayquaza Stuff Toys To Purchase
1. Center XY Pokemon Rayquaza Plush Dragon Soft Toy Stuffed Anime Collectible Dolls 31″ (Black)
This lizard type dragon, Pokemon Rayquaza Plush, is an amazing gift for anyone who loves this character. The whole body of this stuffed animal is primarily black in color. The creature is giving a fierce look which makes it very cool.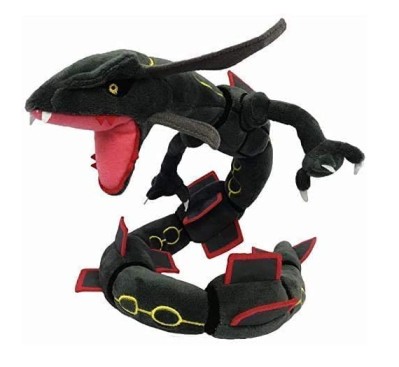 Features:
Ages: 4 years and up
Filling: PP Cotton
Material: high-quality Polyester
You can find more Pokemon Plush Gardevoir here
2. Lizards Plush Figure Toys Center XY Rayquaza Dragon Plush Soft Toy Stuffed Anime Among Us Plush Collectible Dolls 31″(80Cm) (Gray)
The Pokemon Plush Rayquaza makes a perfect decoration and gift for holidays like Christmas, Halloween, etc. This collectible plush doll is large in size. Because of its slender body, it makes a great cuddler and hugger.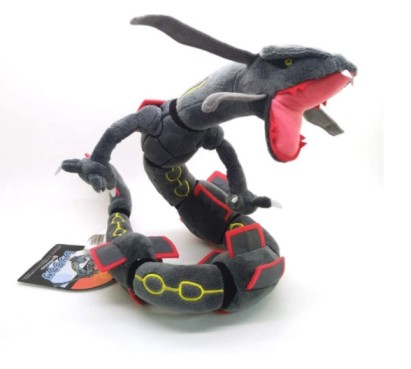 Features:
Measures around 31 inches
Material: PP Cotton
Suitable for all ages
You can find more Pokemon Plush Genger here