The Larvitars are a dual-type rock or ground Pokemon character that was introduced in the Generation 2. It evolves into Pupitar which further evolves into Tyranitar. The Larvitar is small and green reptilian Pokemon animal that has rocky skin. They have a blunt spike on top of their head and a short-rounded snout. There are triangular black markings below and on the top corners of the red eyes. They have a diamond-shaped belly which is covered by red scales. Moreover, there are numerous small holes visible in their body. The Larvitars are usually found living on the mountains, hills, and caves. Get the Larvitar plush and upgrade your collection to a new level.
Find More Quilava Plush
Amazing Larvitar Stuff Toys To Purchase
1. LHAHGLY Pokemon Larvitar Plush Tyranitar Plush Toys 20-35Cm, Anime Game Soft Toys Doll Gift for Kids Stuffed Animals for Boys
These Pokemon Larvitar plush for sale are suitable for both the girls and boys of all ages. This is a set of 2 which contains the Larvitar and the evolved form of Larvitar, Tyranitar. It can be a great addition to your collection, considering it comes in a set of 2.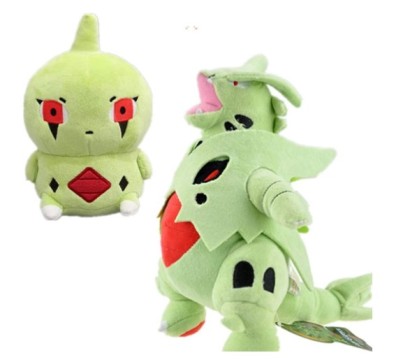 Features:
Size: Larvitar- 20 cm
Size: Tyranitar- 35 cm
Collectible and giftable
Cute and cuddly
Conclusion
The Larvitars has many amazing features, considering its abilities, type, experience, etc. The Larvitars are primarily green and bipedal. They have the hidden ability which helps them to protect themselves. If you are a real fan of Pokemon, this plush is a great addition for your collection to complete it. Get these plushies and make your own Pokemon world. With these Pokemon Larvitar plushies, you can decorate your room and give it a cool Pokemon theme.
Find More Galarian plush