Amazing Pokemon Pokeball Figure to Purchase
1. Pokemon Official Eevee Clip and Go, Comes with Eevee Action Figure and Poké Ball
Do you want to be a real trainer of a Pokemon character? Well, this Pokeball action figure with the Eeve figure will make you a real trainer. You can take your character with you anywhere you want and become a master of them. Moreover, it is small in size so it is carry able.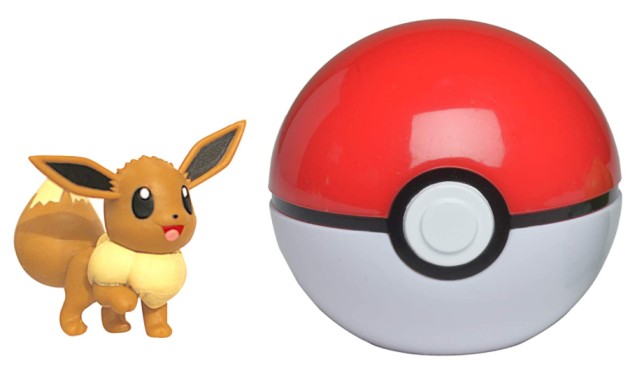 Features:
Size: 2 inches
Belt not included
Ages: 4+ years
2. Pokemon Official Charmander Clip and Go, Comes with Charmander Action Figure and Great Ball
You can carry this Pokeball with you or clip it in your belt when going out, making you feel like a real trainer. This Pokemon Pokeball comes with a Charmander figure too. It is also easy to carry everywhere because of its small size and lightweight.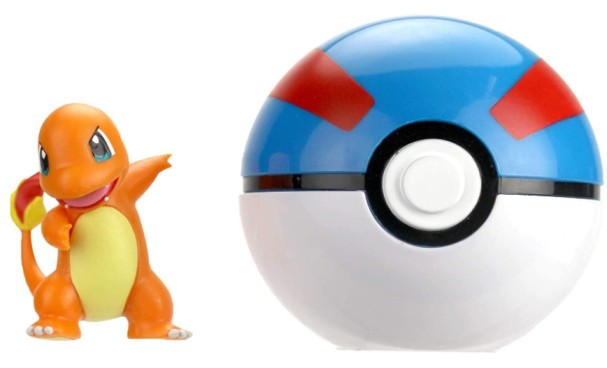 Features:
Around 2 inches in size
Official product
Ages: 4 years and above
3. Pokémon Clip 'N' Go Belt Set with 3 Poké Balls & 2 Figures – Includes Pikachu and Cubone Figure – Holds Up to 6 Pokeballs – Ages 4 +
With this Clip and Go Pokeball belt, you are always ready to have a battle anywhere you want. You are always packed for any situation with this belt set. The set includes Pikachu and Cubone. Moreover, it contains 3 Pokeball and an adjustable belt.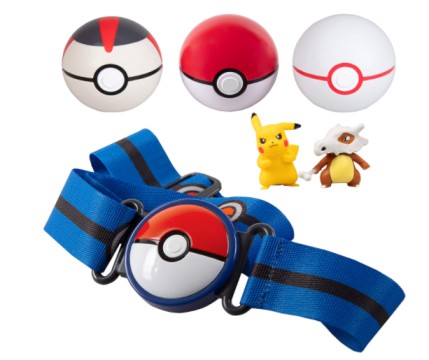 Features:
Size: 2 inches
Officially licensed
Ages: 4+ years
4. Pokémon Battle Figure Multi Pack Toy Set with Launching Action – Generation 1 – Includes Ash, Pikachu, Zubat, Eevee, Ditto and Bulbasaur – 6 Pieces – Ages 4+
Uncover the power of your very own Pokemon world, using this Pokemon battle figure multi-pack set. This pack is featuring the character of Pokemon Generation 1. The set includes Pikachu, Zubat, Eeve, Ditto, Balbasaur figures.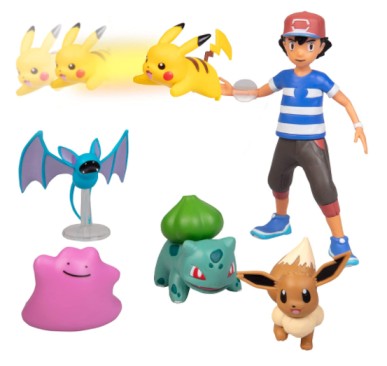 Features:
Number of Pieces: 6
2 inches size of Pokemon figures
The Ash is 4 inches in size
5. Tomy Pokemon Throw 'N' Pop Duel Pikachu Pokeball & Cubone Repeat Ball Figure Set
This Pokeball set is waiting for its master and a new home. Get this pack to become a real trainer and challenge your friends for a duel. The ball pops in this pack opens with a push in the button or you can also toss it into the ground to open it.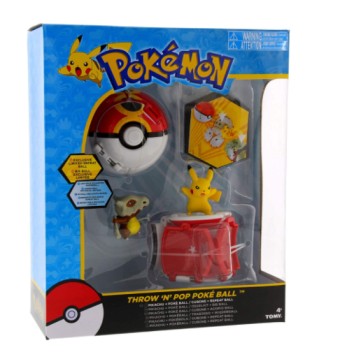 Features:
Makes a perfect gift
Suitable for both girls and boys
Recommended age: 4 years and above
6. 4Pcs Collectible Pokeball Gashapon with Pokemon Figures | Pokemon Character | Japanese Vending Machine-Dispensed Capsule Toys | Random Included Such as Bulbasaur, Charmander, Squirtle, Pikachu
This Pokeball set with figures makes a great addition to the Pokemon collection. The figures that are included in this set are randomly chosen. This can be a great surprise gift for children on their birthdays or Christmas, etc.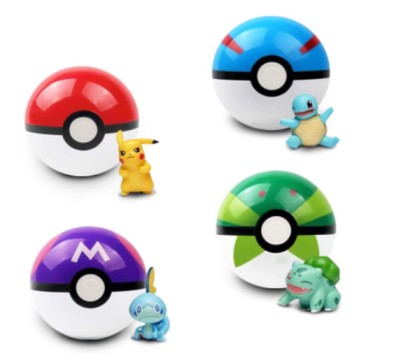 Features:
Number of pieces: 4
Allowed age: 6 years or above
High-quality material
7. Mega Construx GFC88 Pokemon Charmander Figure, Multicolor
This product has one of the Pokemon figures with Pokeball. The Pokemon figure that is included in this set is Charmander which is buildable. You can use this buildable figure with the other construction pieces collection and build your own world of Pokemon.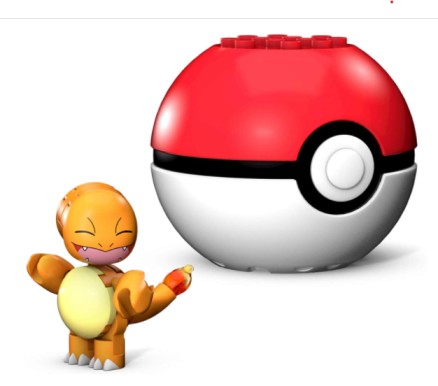 Features:
Ages: 6 years and above
Item weight: 0.96 ounces
Giftable and collectible
8. Pokémon Clip And Carry Poké Ball, Growlithe And Premier Ball
The Pokemon clip and carry Pokeball comes with a Pokemon figure, Growlithe. The set also include an attack tag. You can easily clip on the Pokeball and carry it everywhere you want with no worries. The Pokeball can hold a figure inside.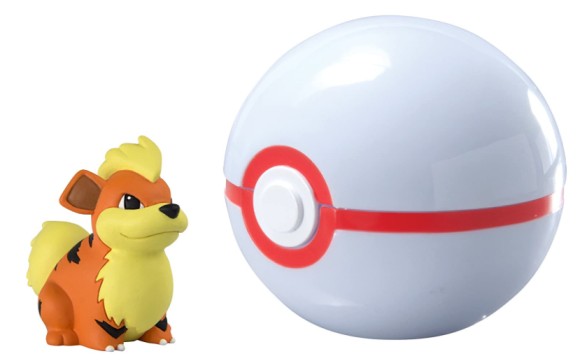 Features:
Suitable for 4 years and above
The figure is 2 inches in size
The Pokeball pops open with a push button
9. Mega Construx Pokémon Pikachu Building Set
This building set of Pokemon comes with a Pokeball and a Pikachu figure. You can use all the other construction figures and these two to build up your own Pokemon world. You can become a real trainer after getting this set.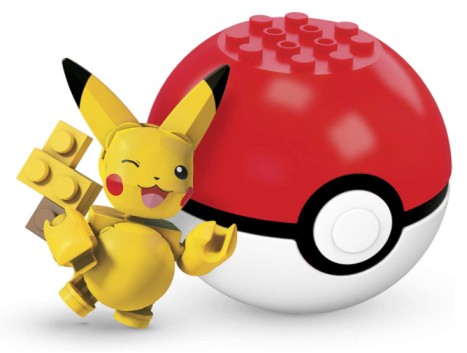 Features:
Lightweight
Ages: 6-10 years
Around 3 inches in size
10. Pokémon Clip and Carry Poké Ball Adjustable Belt with 2 inch Pikachu Figure, Poké Ball, and Grass Type Nest Ball – Assorted colors
Turn your dream of becoming a real trainer into a reality by getting this amazing Pokemon set. It contains one of the Pokemon action figures with Pokeball and a clip and carry Pokeball adjustable belt. Moreover, it also includes a grass type net.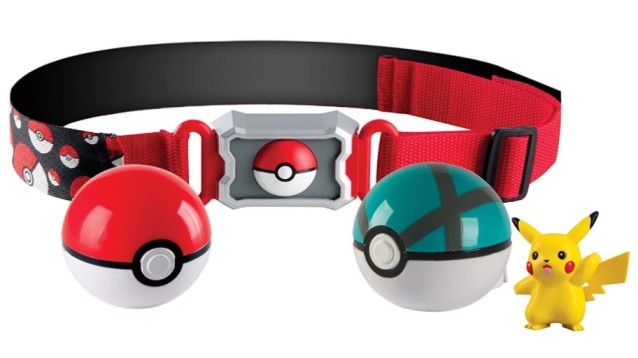 Features:
The Pokeball can hold a figure
The clip belt can carry up to 6 Pokeballs
The Pikachu figure is 2 inches in size
11. Mega Construx Pokémon Pikachu
This construction piece of Pokemon is a must have for every Pokemon lover and collector. They will shock themselves when getting this amazing buildable Pokeball and Pokemon figure. It can be used with the other construction pieces and makea complete set.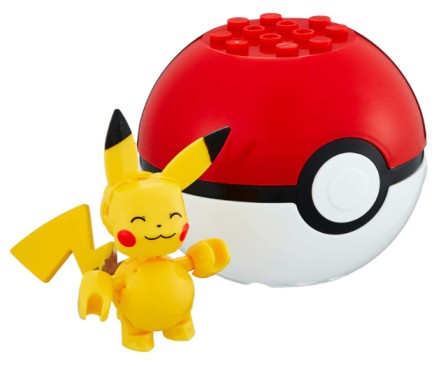 Features:
Lightweight, around 0.96 ounces
Giftable and collectible
Suitable ages: 6-10 years
Find More Bulbasaur funko pop