The Lucario is a bipedal, canine-like Pokemon character. The Lucario primarily has blue and black fur on its body. This Pokemon creature possesses a round spike on the back of its each forepaw and a third one on its chest. The Lucario has red eyes, a long snout, and ears.
When it opens its mouth, two pointed teeth can be seen. The ability of the Lucario is that it can study the opponent's attack or movement. If you like the Lucario animal in the Pokemon anime or the game, you are going to love the Pokemon Center Lucario Plush. 
Find more Jigglypuff Pokemon Plush
Amazing Lucario Stuff Toys to Purchase
Pokémon Lucario Plush Stuffed Animal – Large 12″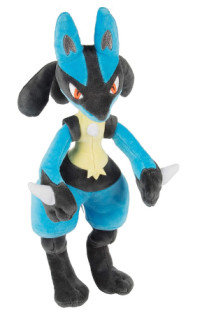 This Pokemon Lucario Plush is large in size around 12 inches tall. As it is large in size and made up of soft material, it makes a good cuddler. The major body of this plush is blue and black with just a cream-colored stomach. This Lucario is giving a very fierce look.
Features:
Material: Polyester 
Ages: 2+ years 
Officially licensed 
ZJSXIA 3pcs Pokemon Plush Stuffed Animal Toy Heterochromia Lucario Riolu Evolution Edition Plush Doll for Children Gift 12 Inch Pikachu Toy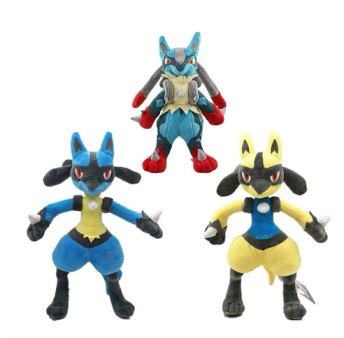 This one is a set of 3 Pokemon Plush Lucario. These are short in size and possess a soft appearance. These plushies have a very unique design and are non-toxic as they do not lose the hair easily. There are also some embroideries on these dolls. 
Features:
Filling material: PP Cotton 
Material: Polyester 
Recommended age: 2+ years 
Giftable and collectible 
Here are the Sylveon Plushies you might like to buy